[Case Study]: How We Increased Traffic To A Supplement's Store In 6 Months (100 to 5779 Monthly Visitors)
We ran this with a sense of urgency.
To be honest, we had already done the same for others, so it was a piece of cake.
And as a Centis' client, we knew this supplements company was willing to do whatever is necessary to connect with new buyers. And they were eager to do so.
That's what we are sharing with you today: the results and strategy of our most recent success to increase traffic for a supplement e-commerce store.
Traffic is one of the most important factors for a website's livelihood. Traffic AND conversions are what makes websites profitable (whether you sell supplements to end customers or you want leads for your nutraceutical manufacturing business)
Ready to dive in?
Background
A prospect came to us around the summer of 2020. He was selling a specific variety of supplements that cost between £13.99 – £180 each. The site was pretty much abandoned as the entrepreneur was focused on selling on marketplaces like Amazon and eBay.
He was already getting some organic traffic because his website and domain dating back to 2015.
The client went with the Starter package as we advised them that a combination of blogs, email marketing and paid ads would do the work and he would slowly but surely get off the ground.
There was a lot of opportunity for growth here! We just had to find his ideal customers and change the story, the messaging and find out how to approach new clients while engaging with some of the old ones.
Website Audit
The first thing we always do is to perform a website audit. We're looking for anything that could prevent the site from converting traffic.
Our initial research told us that his website was a mess; no internal linking, no structure, irrelevant posts, doctor-type of language, heavy images (no optimisation, no tags). Need to go on?
The team of developers jumped right in and cleared everything up. The developer's collaborative effort along with the content manager got the website to get an A grade at GTmetrix.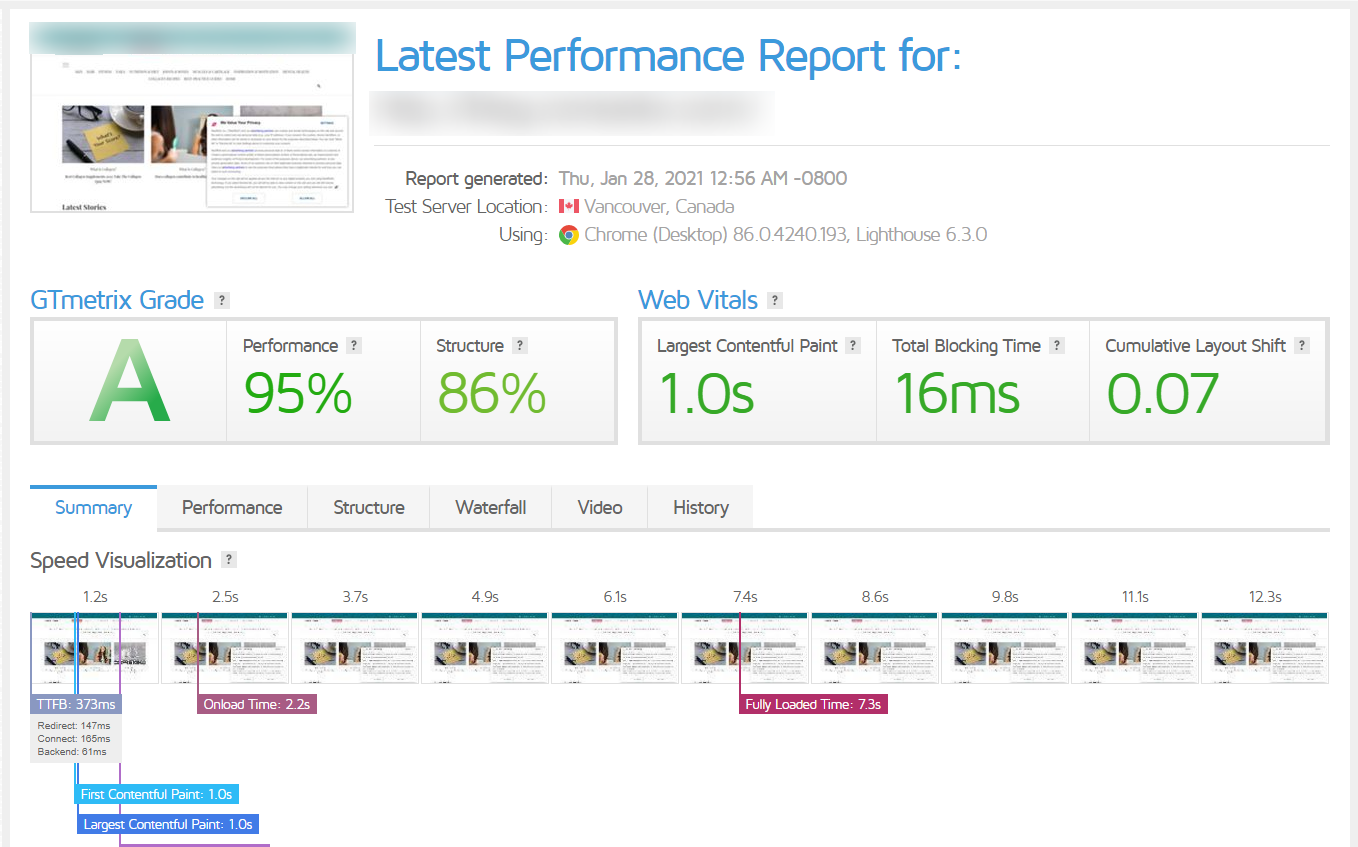 After our initial audit, it was time to understand what the audience wanted the most. In this case, we already had previous sales data, so we run a hypothesis:
What is the best selling product since the site was launched?
Crunching on the data, we figured that a fat burning supplement was having the most sales since 2015, so our approach is to always put more effort to what is already sells, rather than re-inventing the wheel for what is not. We are striving for quick wins here.
So, the next step was to build a landing page for this product and also enhanced the website with multiple CTAs for email subscribers with a 15% discount code.
Why email subscribers???
It is essential to understand that your owned assets are your website, your blog, your past customers and your email lists – nothing else. If Facebook disables your ad account, blocks your blog from showing up, what would you do? You must have a good list of subscribers which you email every time or a good list of past customers who are happy with your purchase and make instant sales – with no advertising!
If you do not believe me here is a screenshot of the ROI we got from one of our clients:


Keyword Research – The "Easy Wins" Analysis
Everything in digital marketing starts with what your users search.
To kick off our keyword research, we always look to find keywords that they are starting to rank for, but aren't ranking at the top of the search engines quite yet.
These keywords can be easily boosted (via content, links, ads) to see quicker traffic wins.
Our keyword search showed us that there were 96 potential targets, mostly bottom of page 1 through page 3 all with CPC between £0.23 and £3.52.
When you do keyword search always use the following checklist:
1. Search keywords for your brand. Consumers who know your brand, most times are the easiest of all to convert. In terms of volume, this category of keywords might not produce the most impressions or page views, but they usually will have the best conversion rate!
2. Search keywords for your products. Find out what your product does – separate its features from benefits. People who are searching for these terms are still at the top of the funnel and your cost per action (CPA) on these terms usually will be higher than on brand terms.
3. Search keywords from your competitors. Whilst Google has tightened up the quality score when you mention competitors, it is nearly impossible to find a reasonable cost per click (CPC) on competitor terms. However, if you are really eager to beat someone and you are trying to get ahead, these could be good terms for you.
4. Keywords for alternative products. This tactic might be used by a consumer instead of your product. For example, if you're selling Vitamin D, you might consider bidding on "multivitamins".
Keyword Research – Competitive Gap Analysis
The competitive gap analysis is designed to help you find keywords that your competitors are ranking for that you currently are not.
This is a crucial step as it always helps generate new keywords that you can easily target with content.
E-commerce is a bit different than other sites with the content gap analysis. Sometimes, when you do your research, you often find a ton of products you do not want to deal with.
Here is how you can do a killer keyword analysis:
Let's say you and your competitor have two similar pages covering the same general topic — in this case, "Leanbean" (loss weight formula). What you want is to identify the exact keywords your competitor is ranking – ideally on page one!), so you can optimise your own page to target those terms.
Sign up for a trial in any keyword analysis tool (we prefer Moz).
Start by entering your competitor's URL. It will come up with (somehow) limited) branded keywords that your competitor is using: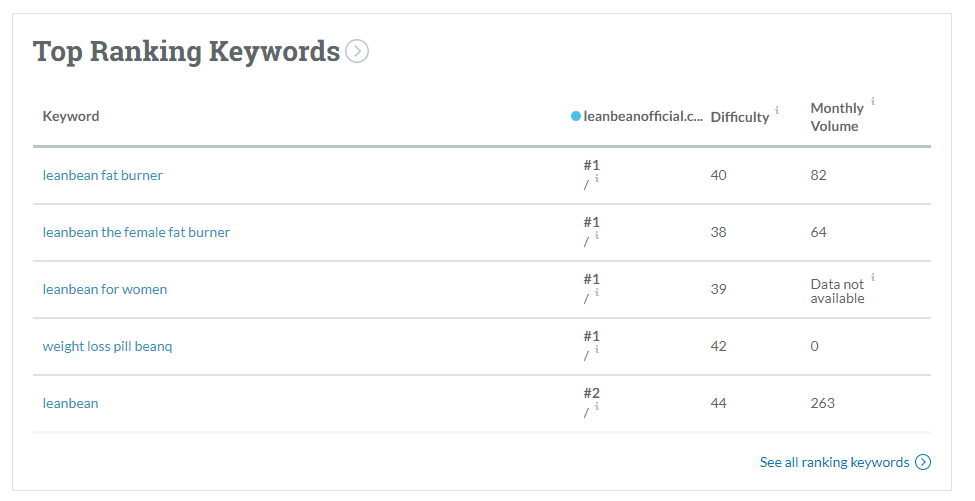 Then all you have to do is write content or ads, using these keywords as well as variations form them.
Action Plan
This was a pretty typical campaign where we built consistent content and links to the site.
For Months 1 – 3, the actions in order to get more visitors were:
1. Based on the keywords we found, we started writing one 2,000-word blog post per month
2. Each blog was then syndicated to all mediums, including Facebook, Instagram, Tumblr, Blogger and other networks
3. Every blog post was also emailed to all newsletter subscribers, mixing with new product offers
3. We pushed with brand awareness ads to bring customers on the website – with incentives to sign up to our newsletter
4. We also created one core product, with its own long-form landing page and product page, and we drove traffic using Facebook ads, Messenger ads, Google Ads (Search and Display), Bing as well as Yandex
5. Finally, we set aside a budget for remarketing – for this we used Facebook, Google and Adroll
For Months 4-6, we used the good quality content with beautiful imagery to persuade bloggers in the health and fitness niche to guest blog for us and vice versa.
Then we asked them for co-marketing opportunities within their email list and social media.
See the stats below. You will see that the website's traffic was practically non-existent a few months ago!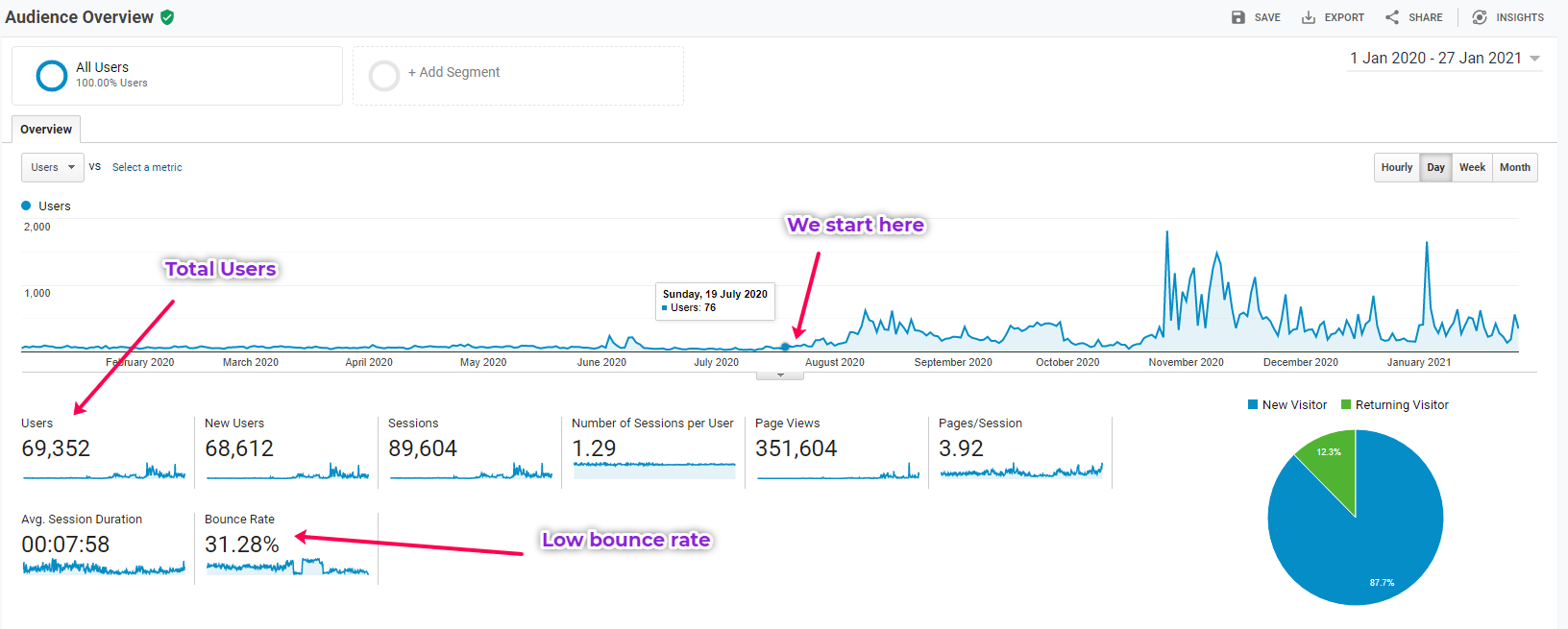 Going Forward
We now have installed great pieces of content that are educating our ideal customer (AND they are valuable pieces of content, as opposed to just product pages), and now we'll be able to do some surgical link building and get these pushed up even farther.
By surgical link building, we mean inviting more qualified bloggers to write and use our resources (for curation) and create more buzz with contests and giveaways, as well as push with referral marketing.
By following this strategy, and by keeping the momentum, we see that Google is starting to rank more of our content, the website becomes known and more and more people buy the core product (which we upsell them via funnels and email marketing later).
Key Takeaways
To be able to sell any virtually unknown supplement brand you need to create demand.
Demand can come from two primary forces: either user needs or via education and awareness (content and influencers).
By writing long-form posts we make these pages easier to rank, and you can do an internal link to your product pages. After you have the content, it makes getting good links 1000X easier!
Do you want to achieve the same results for your supplement brands? Request a free strategy session here – 100's of supplement brands can't be wrong!